Mon-Fri: 7:00 a.m. - 7:00 p.m.
Sat: 9:00 a.m. - 2:00 p.m.
Sun: Closed
Follow us online!
Register
Register online with us
and authenticate your pharmacy refill account. register now »
Review
Review your prescriptions,
research drug information and see details on your current prescriptions.
Refill
Send in the request.
Save time and have your prescriptions ready when you arrive.
Welcome to Davis Drug

We're glad your here! If you have any questions, please let us know!
Refill and Review your prescriptions online!
It is our commitment to provide you with exceptional service both in the pharmacy and online.
We are pleased to announce that you can now access your prescriptions online - 24/7!
What does that mean to you?
No need to wait in lines to refill your prescriptions.
View and refill your prescriptions in the comfort of your home or office.
How much does it cost?
Absolutely FREE!
How do I get started?
Click on Register and begin the registration process. It's just that easy!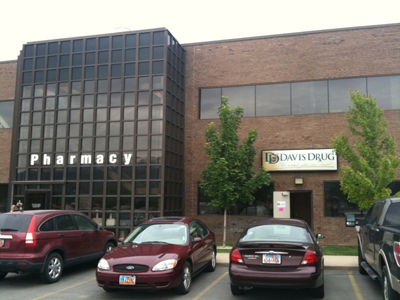 Get in touch!

We love to hear from you!
Address: 1580 West Antelope Drive

Layton, UT 84041
Phone Number: (801) 525-5277
Fax Number: (801) 525-5279
E-mail: support@davisrx.com
Hours of Operation

Please come in and see us during the following hours:
Open Monday through Friday

7:00 a.m. - 7:00 p.m.
Saturday

9:00 a.m. - 2:00 p.m.
Sunday - Closed